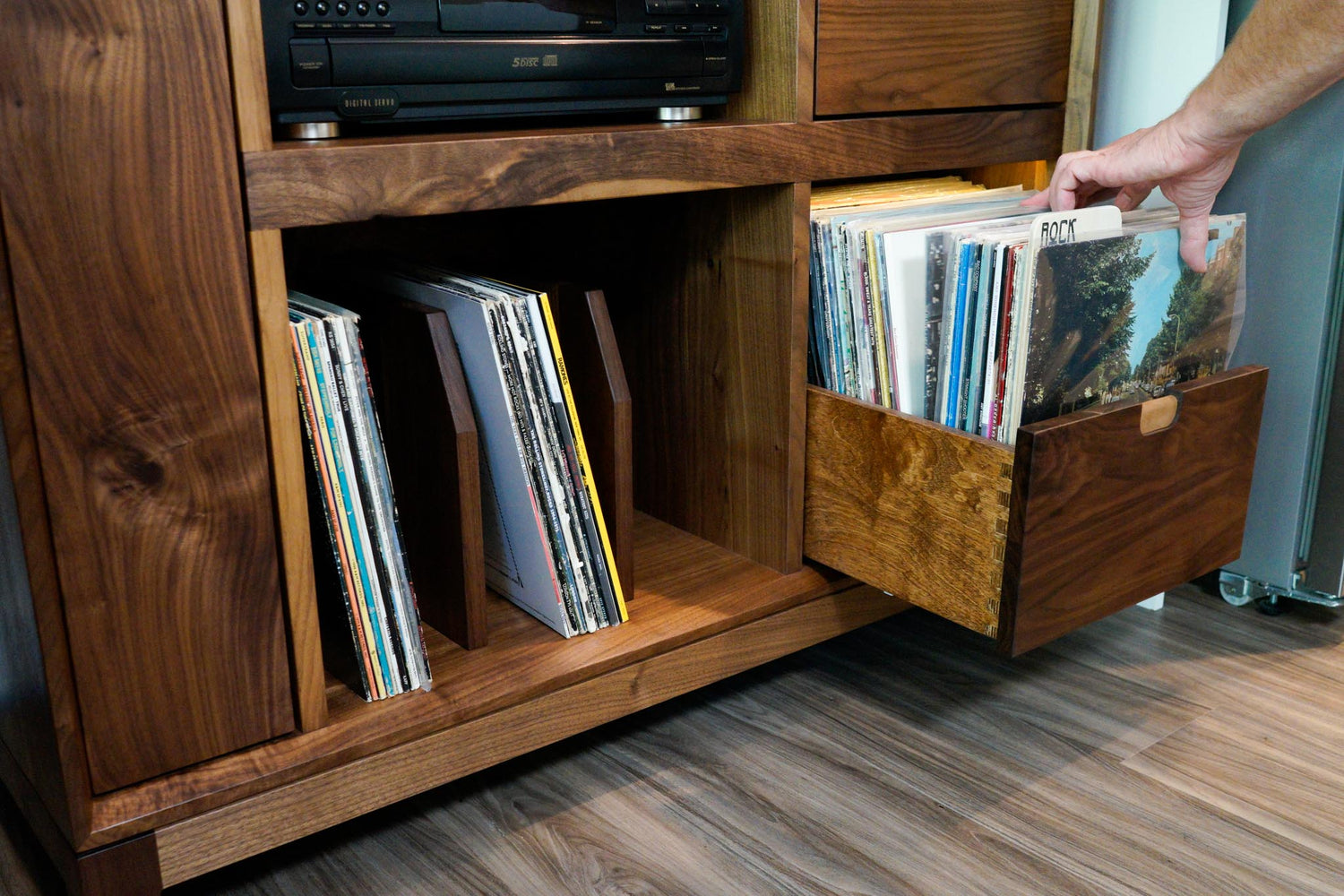 Simply a dream record cabinet, with all the features one could want. A vibration-dampening isolation block for the turntable, deep and organized record drawers, a headphone hanger, a small drawer for record maintenance tools, and even dimmable lights in the record drawers. Projects like this are our forte. When a client has a clear vision for how the piece should fit their passion, it's easy to turn that into a beautiful reality.
Species: Black Walnut
Completed: September 2022
Tempered Glass River Dining Table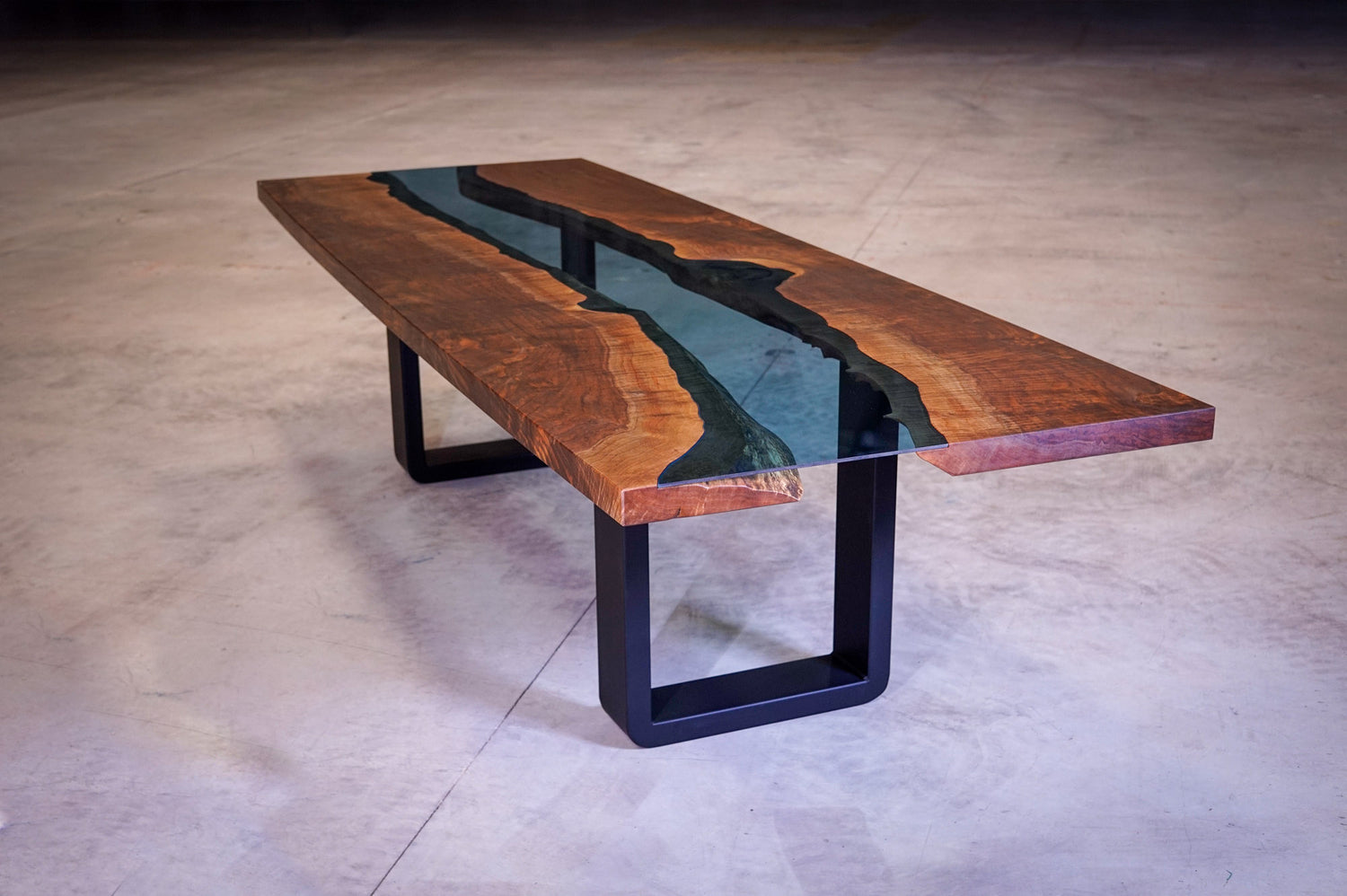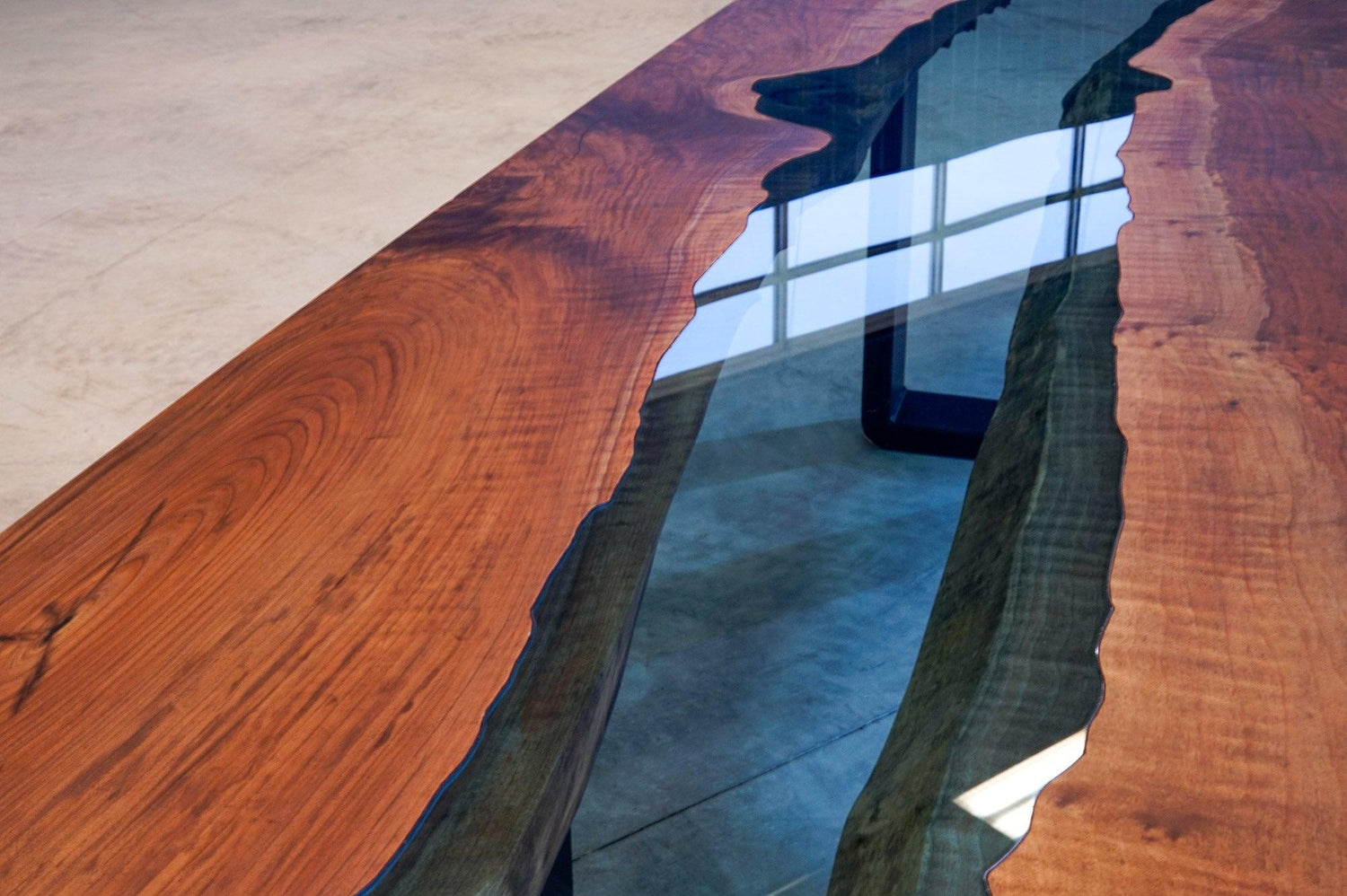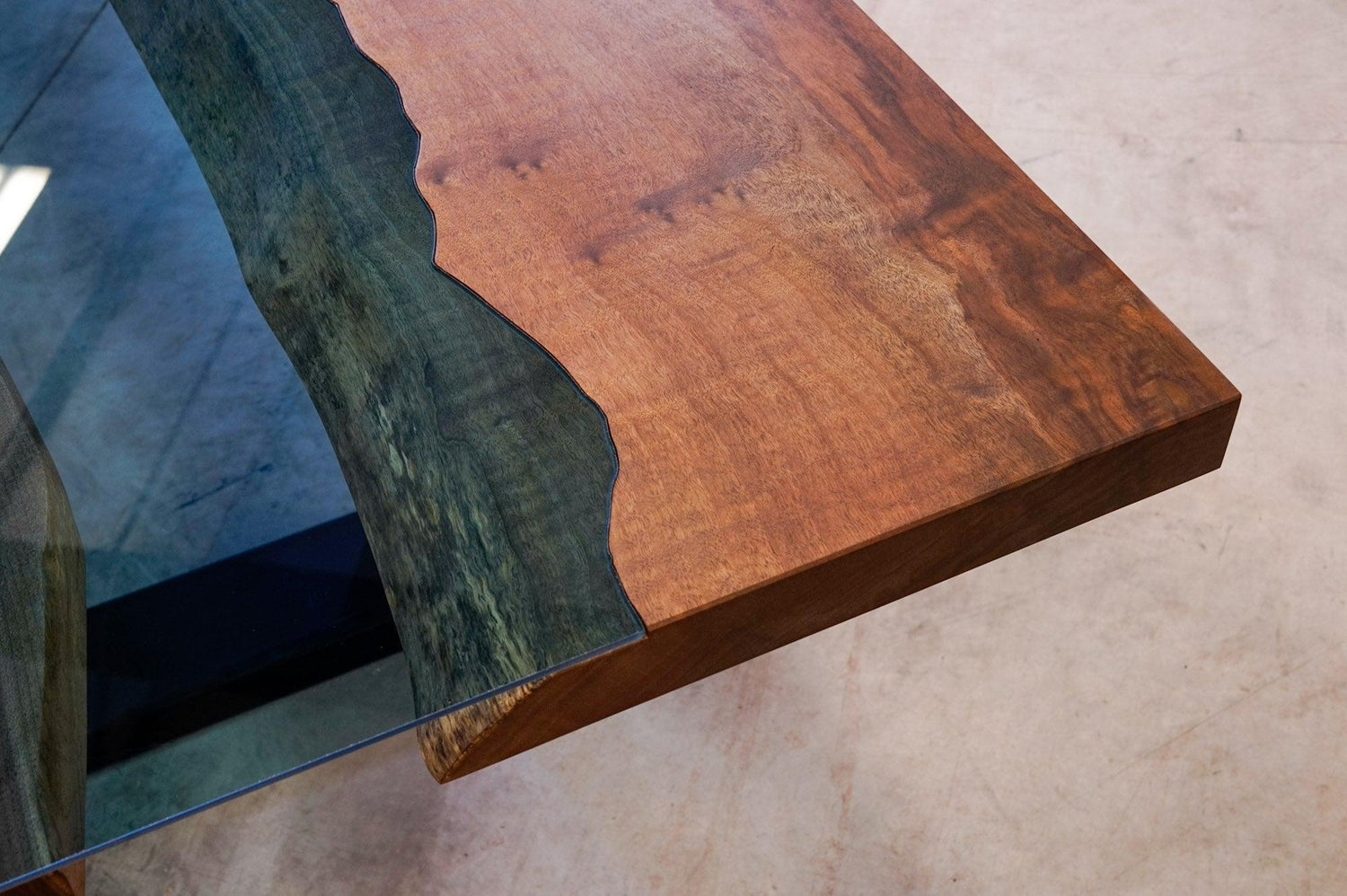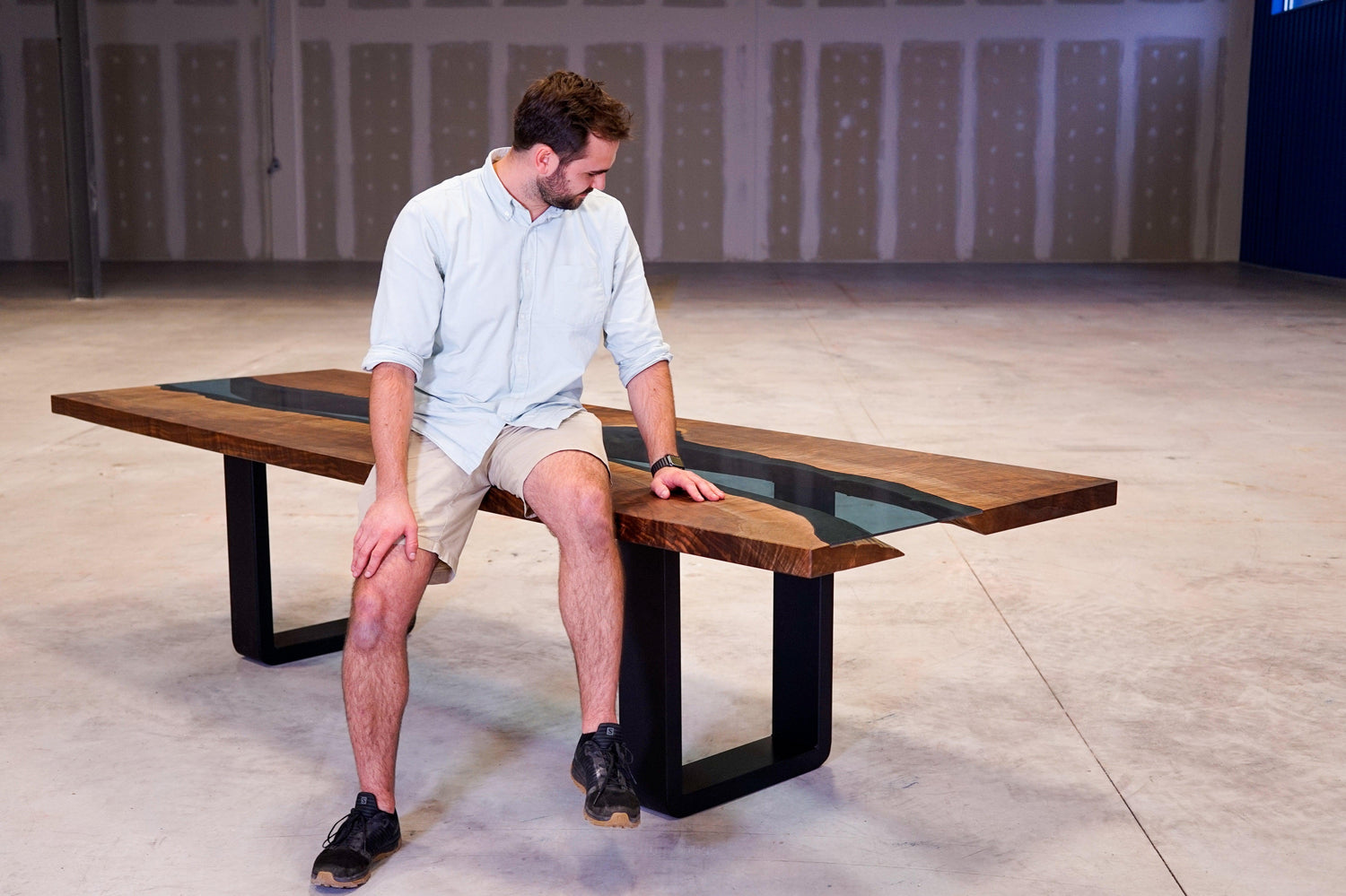 Designed to seat 14, this massive dining table is made from a single slab of Black Walnut brought in from Oregon. It was sliced down the middle, and each half turned in on each other to create the unique, blue tempered glass river. An heirloom piece like this depends on exquisite material sourcing from an experienced sawmill that kiln-dries the wood to exacting precision, and proper milling and finishing procedures. These practises are necessary to combat any erratic wood movement as best we can in the years to come.
Species: Oregon Coast Walnut
Completed: October 2021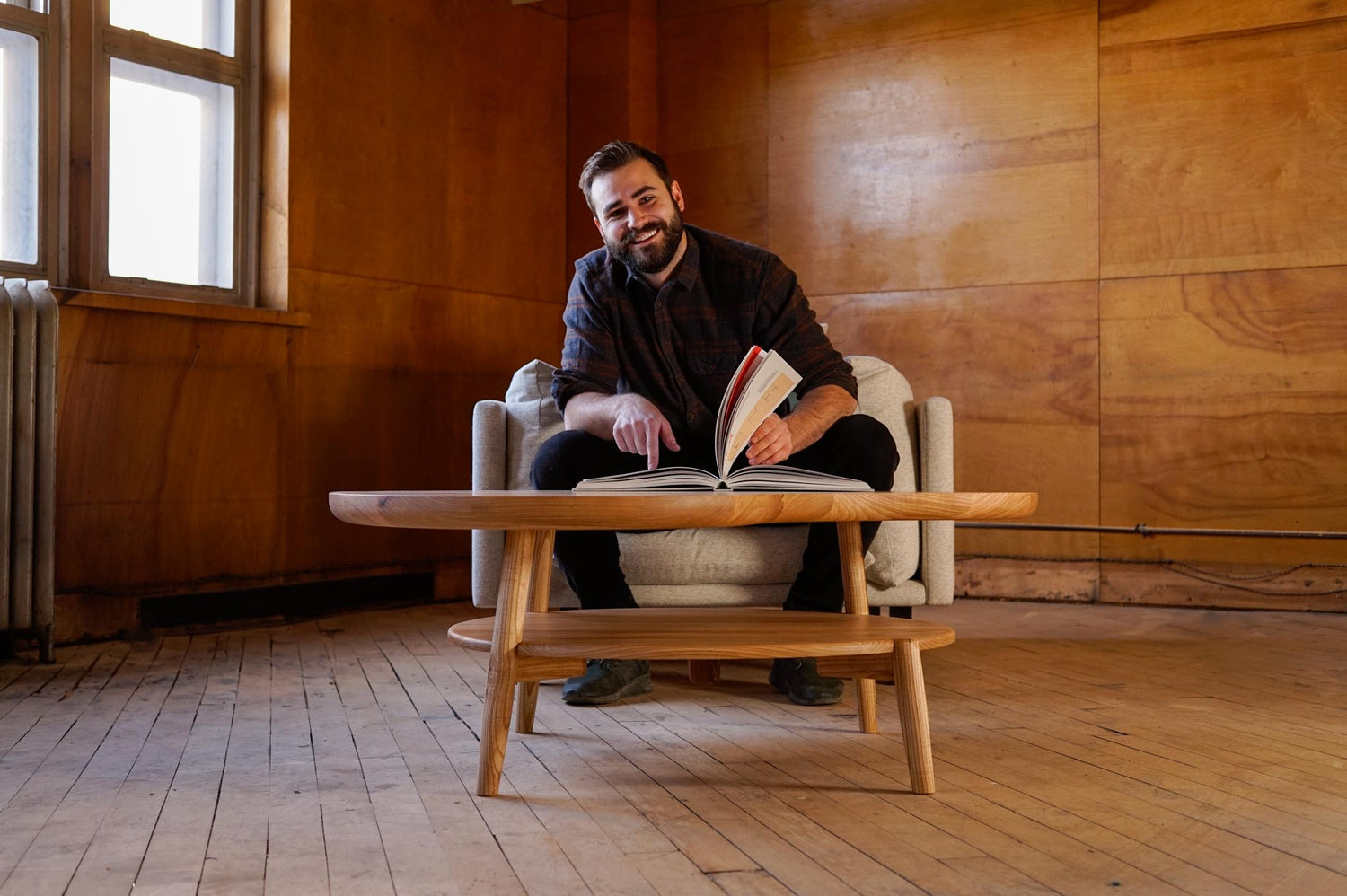 The Cashew Coffee Table was made for some close friends to tie their L-shaped living space together. It has a mid-century inspired design, meant to welcome guests to the space with a soft appearance. Made from White Ash and finished with a rich and durable wax-oil compound. It's featured on the latest Furniture Tee, available now in the shop!
Species: White Ash
Completed: November 2021
SHOP NOW
Upholstered Walnut Bedroom Bench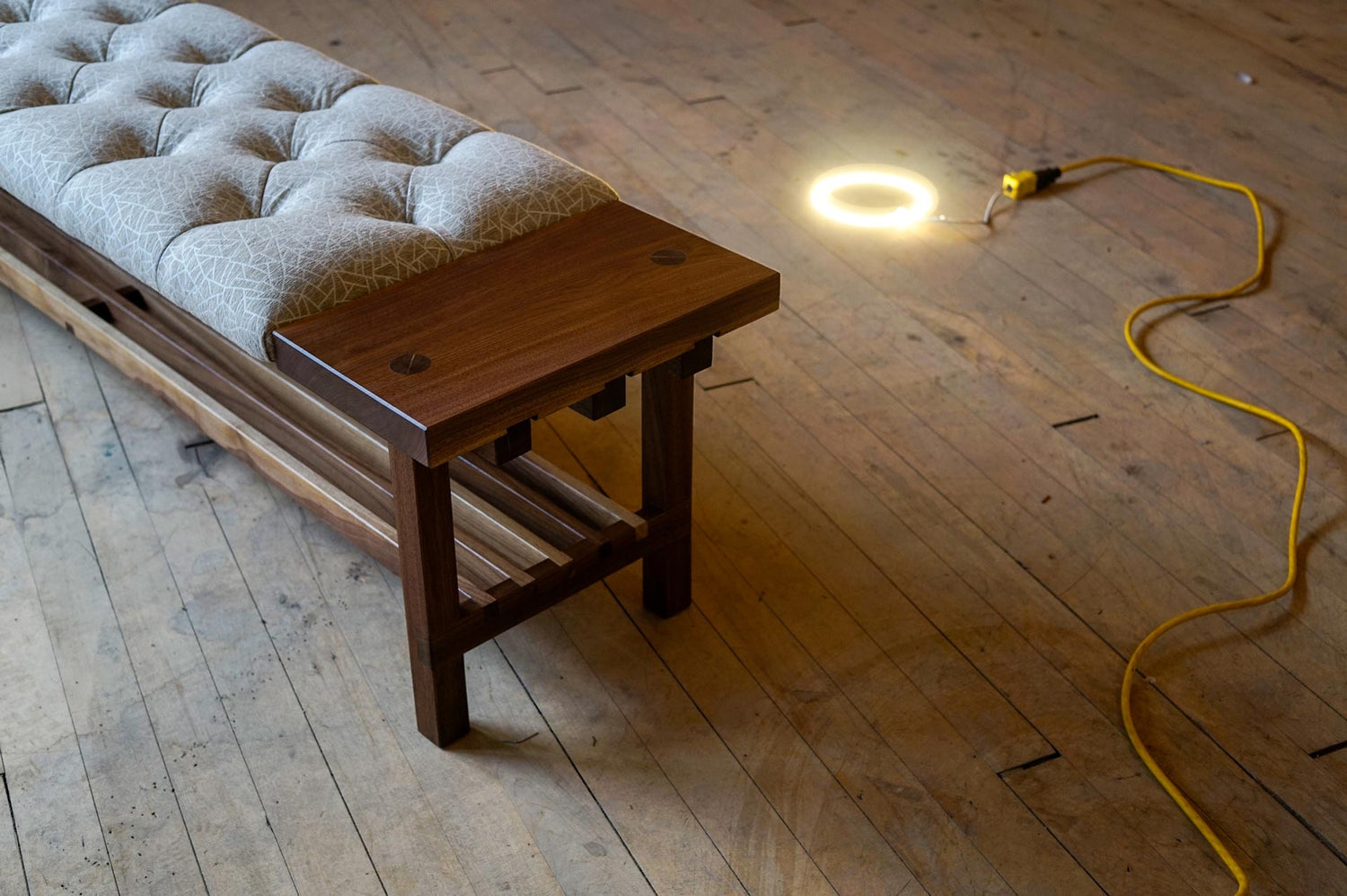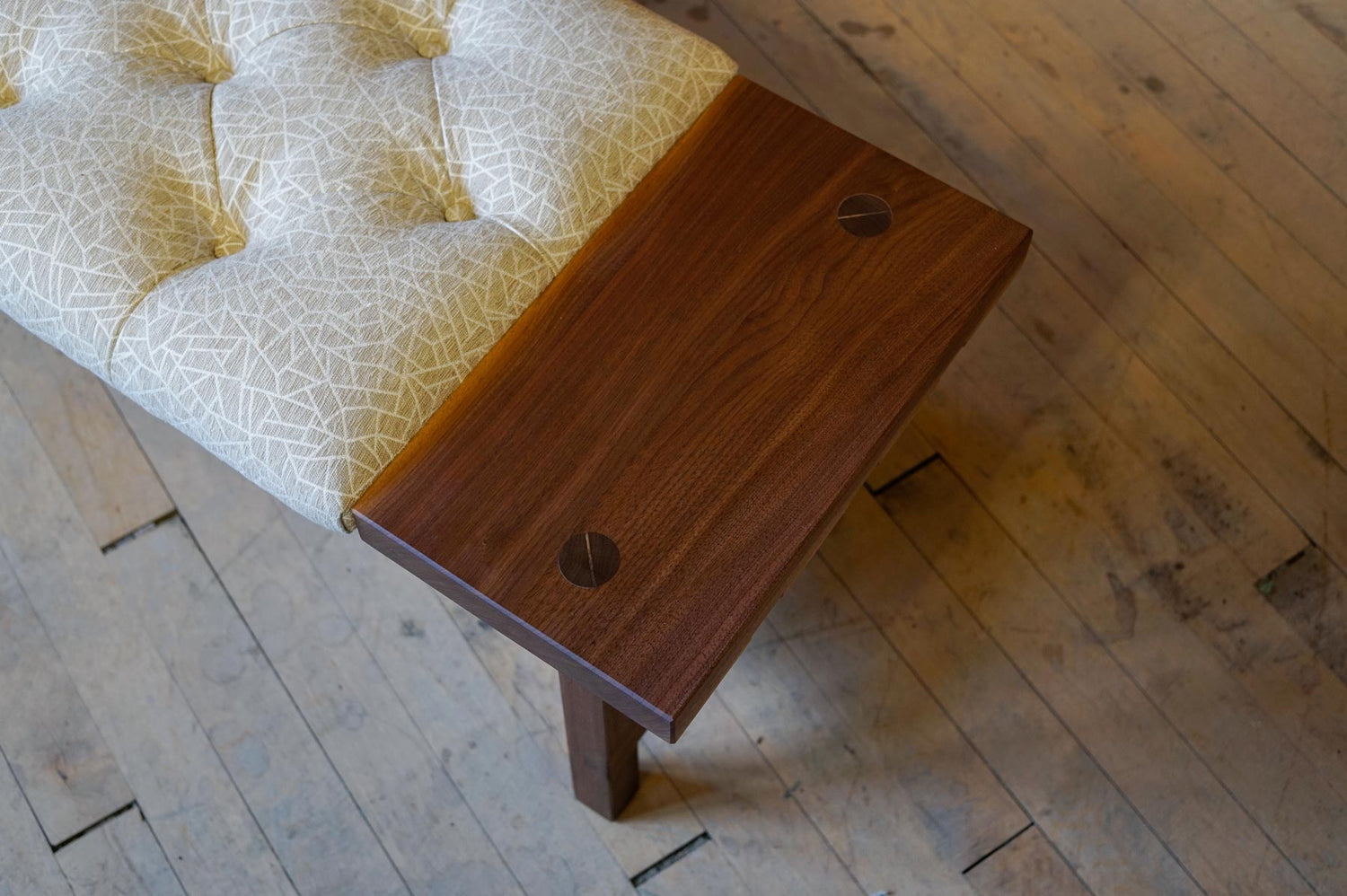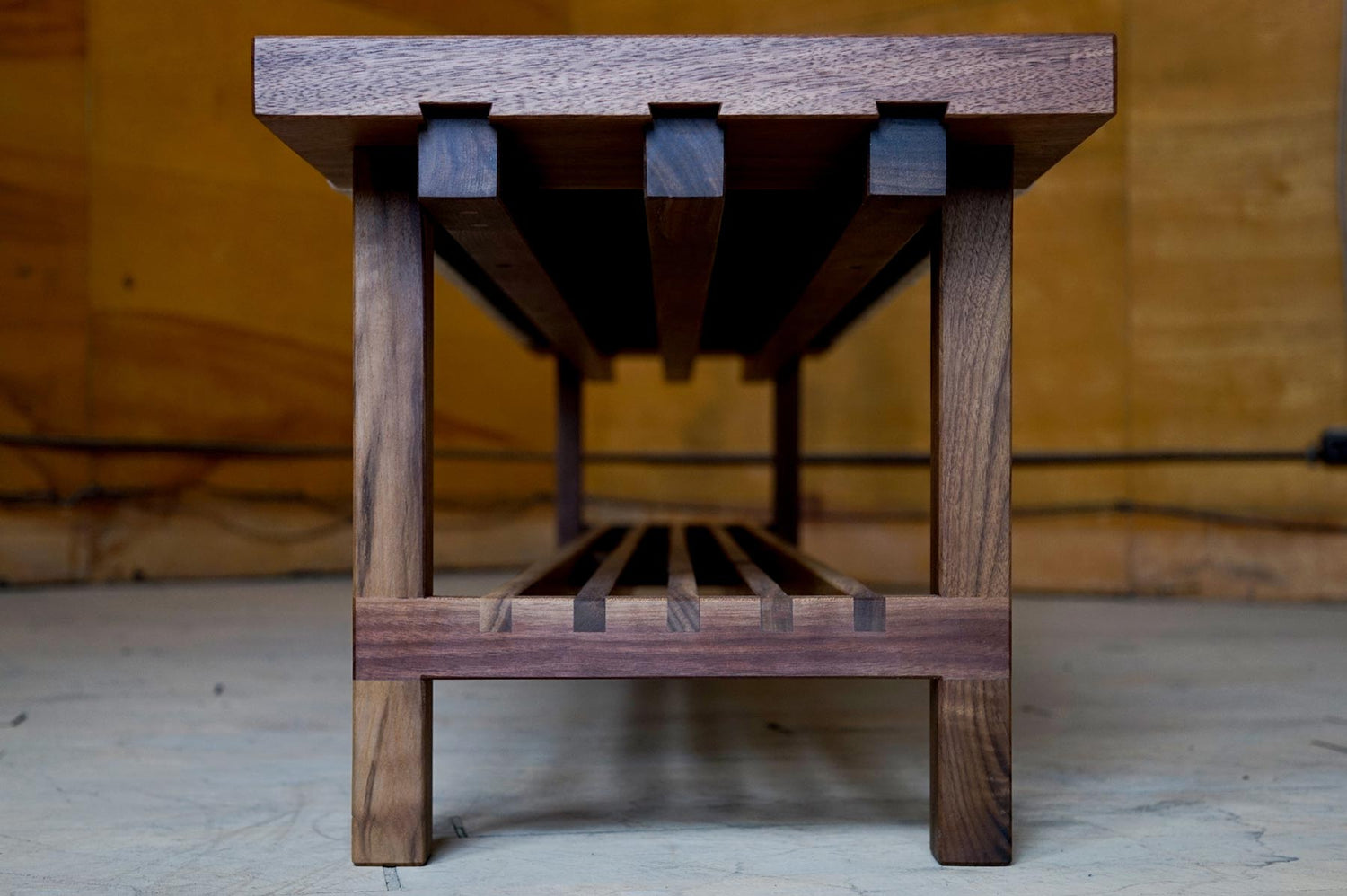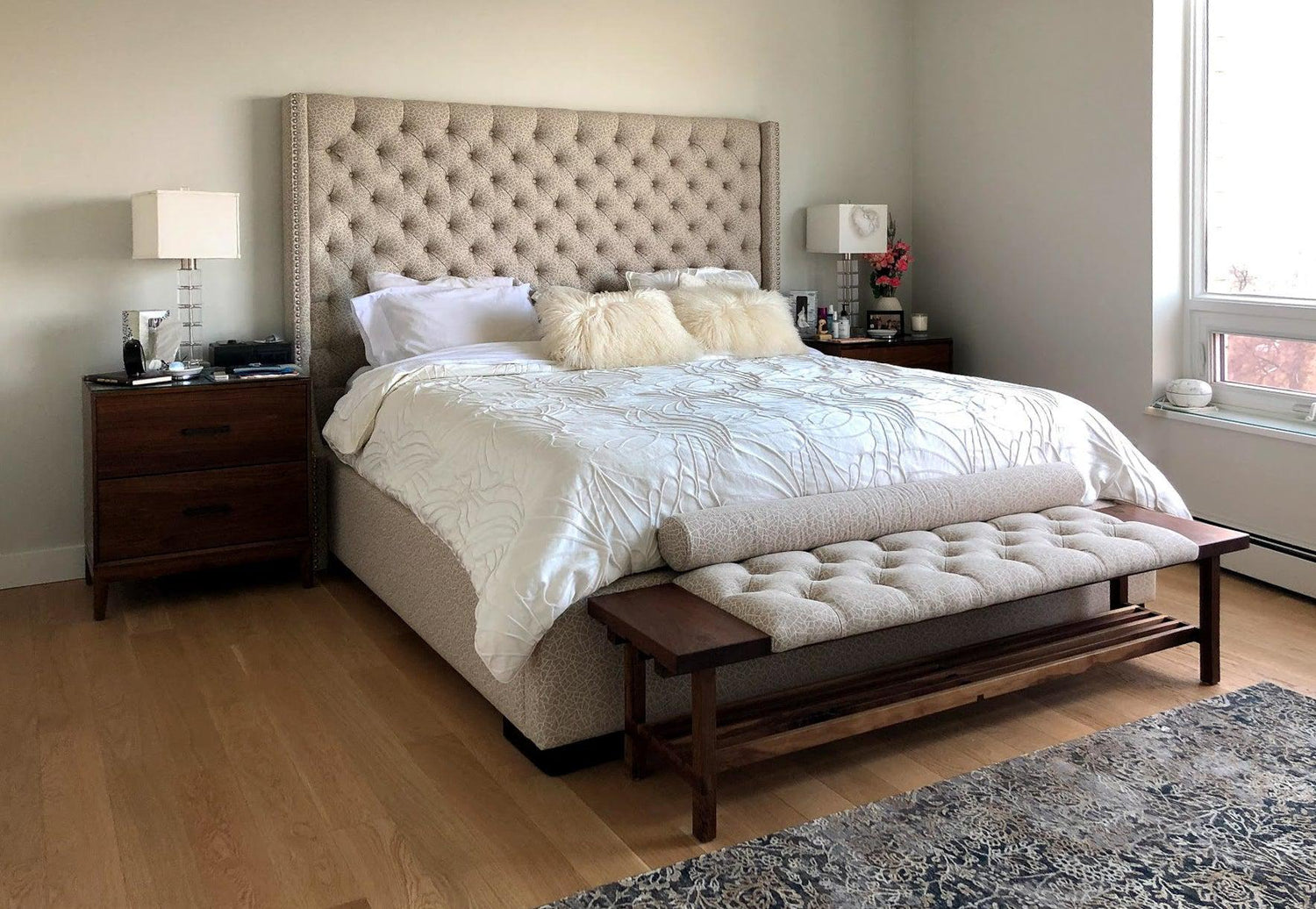 This bench was designed to sit at the foot of a bed, using the fabric from the headboard and the wood from the bedside tables, it ties the room together perfectly. A small storage shelf inspired by the famous Nelson Bench is made using slats and half-lap joints, and sits below a platform featuring wedged through-tenon joints and dovetail support rails for the seat cushion.
Species: Black Walnut
Completed: October 2020
White Ash Wine Collector Cabinet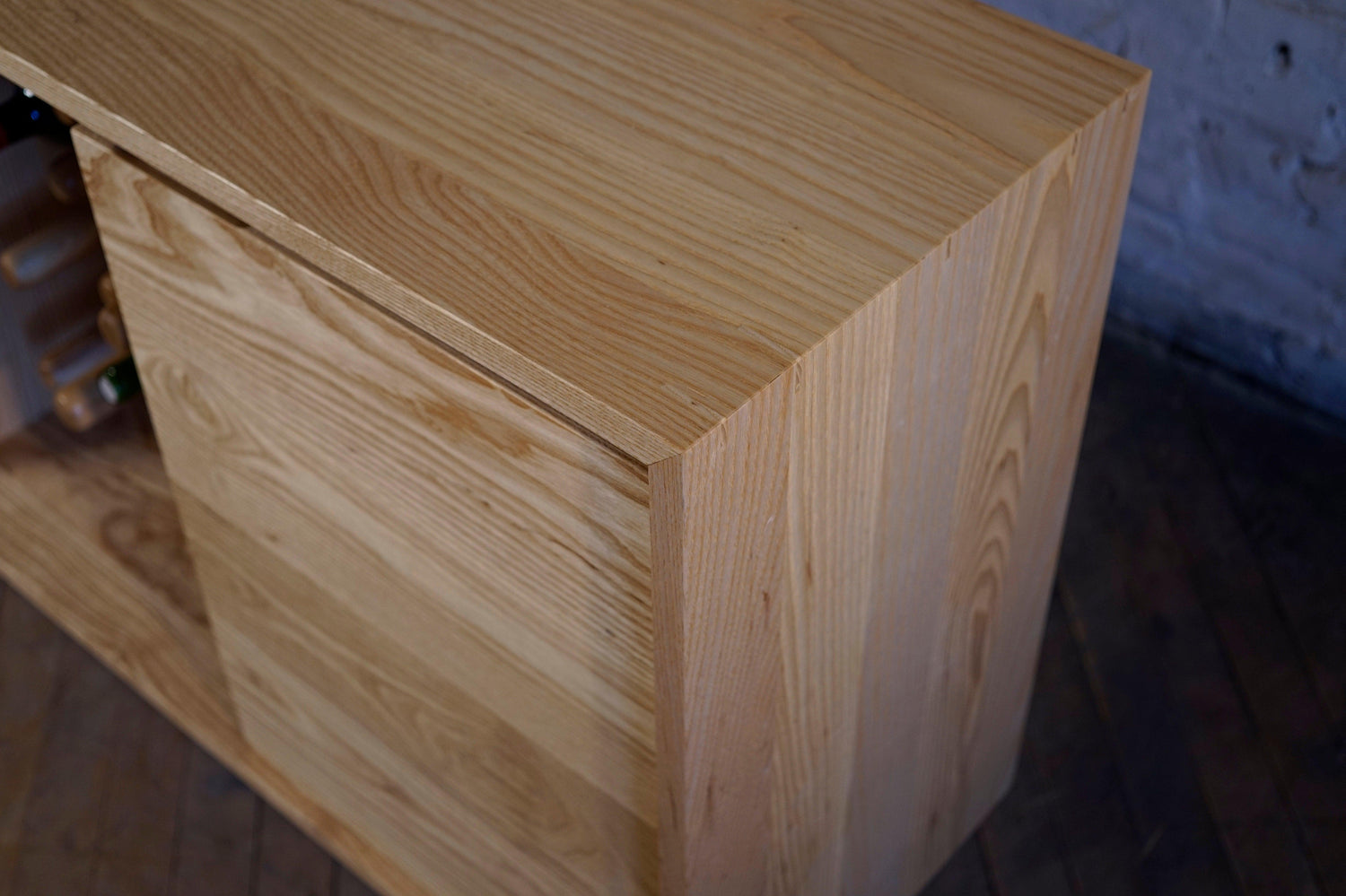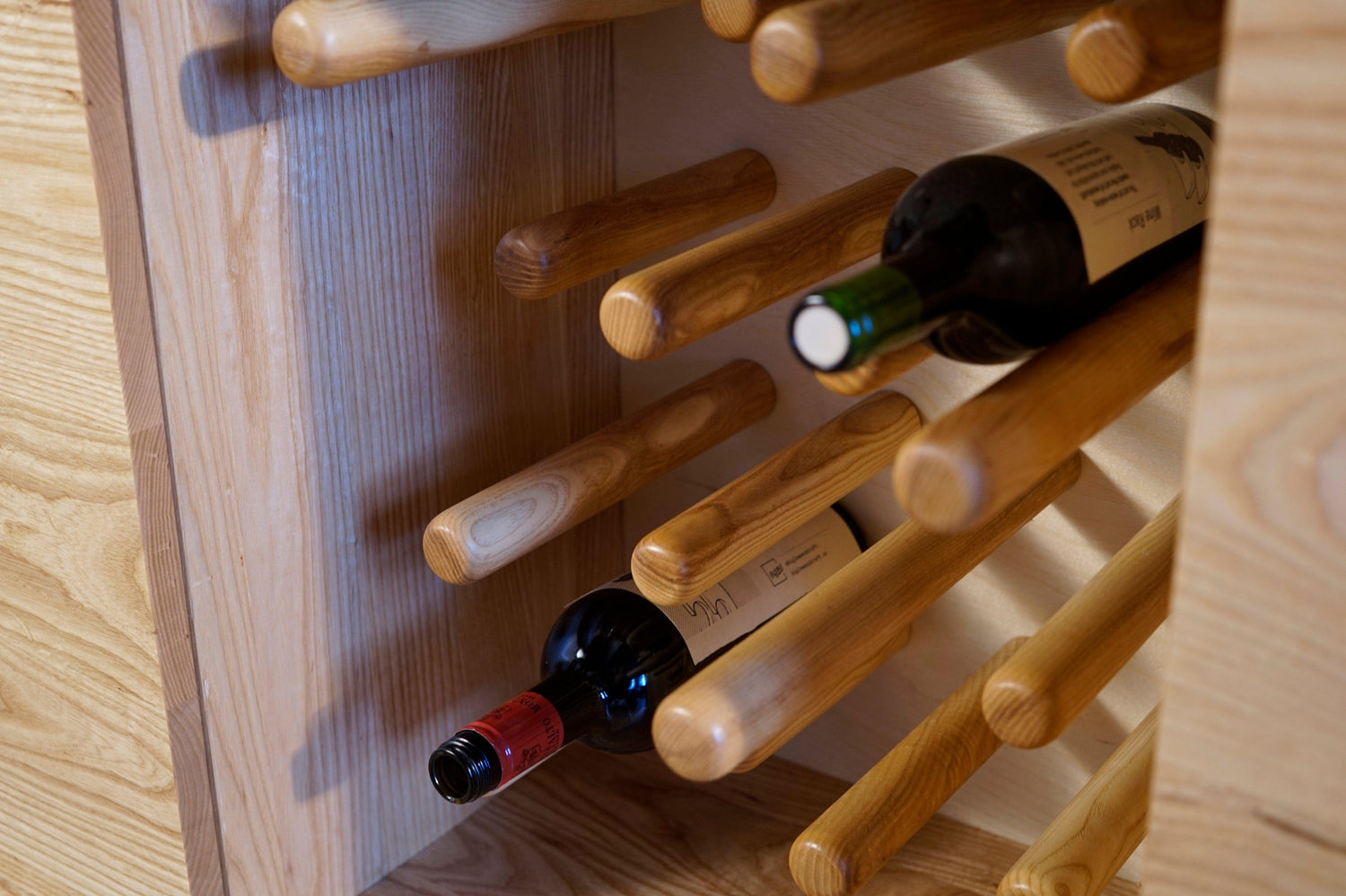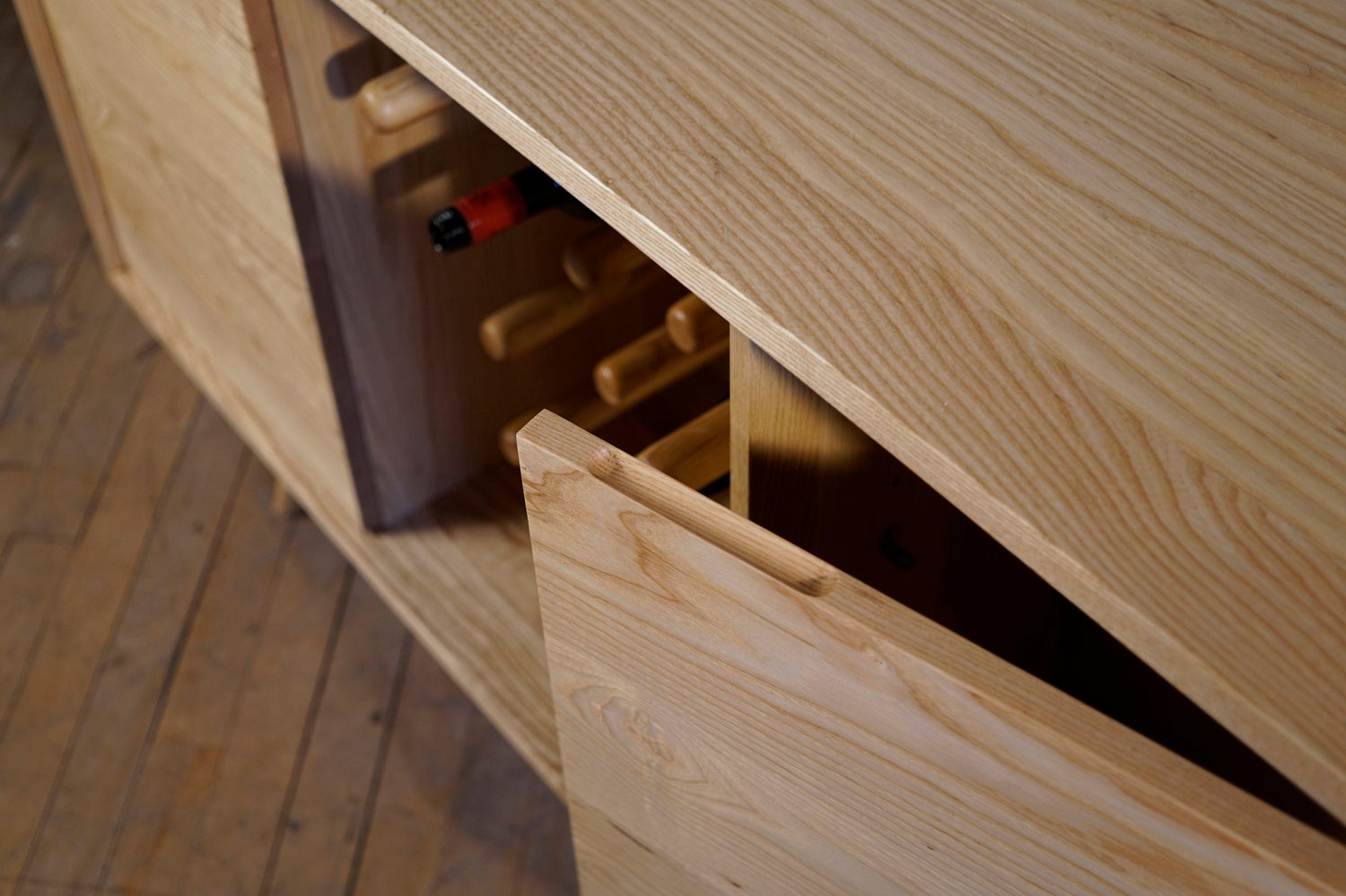 The Wine Collector Cabinet started with a reduction to the essence of the design; a cabinet that has an interesting wine display, regardless of the number of bottles. This organic array of different length supports is framed by a simple, high-end cabinet without any flourishes or novelties, and we think this line of thinking will keep it in style for decades to come. Note the waterfall edges that carry the grain from the top down each edge, with as little disruptions to form as possible, reinforced with subtle spline joints.
Species: White Ash
Completed: March 2020
Mid-Century Modern Walnut Bed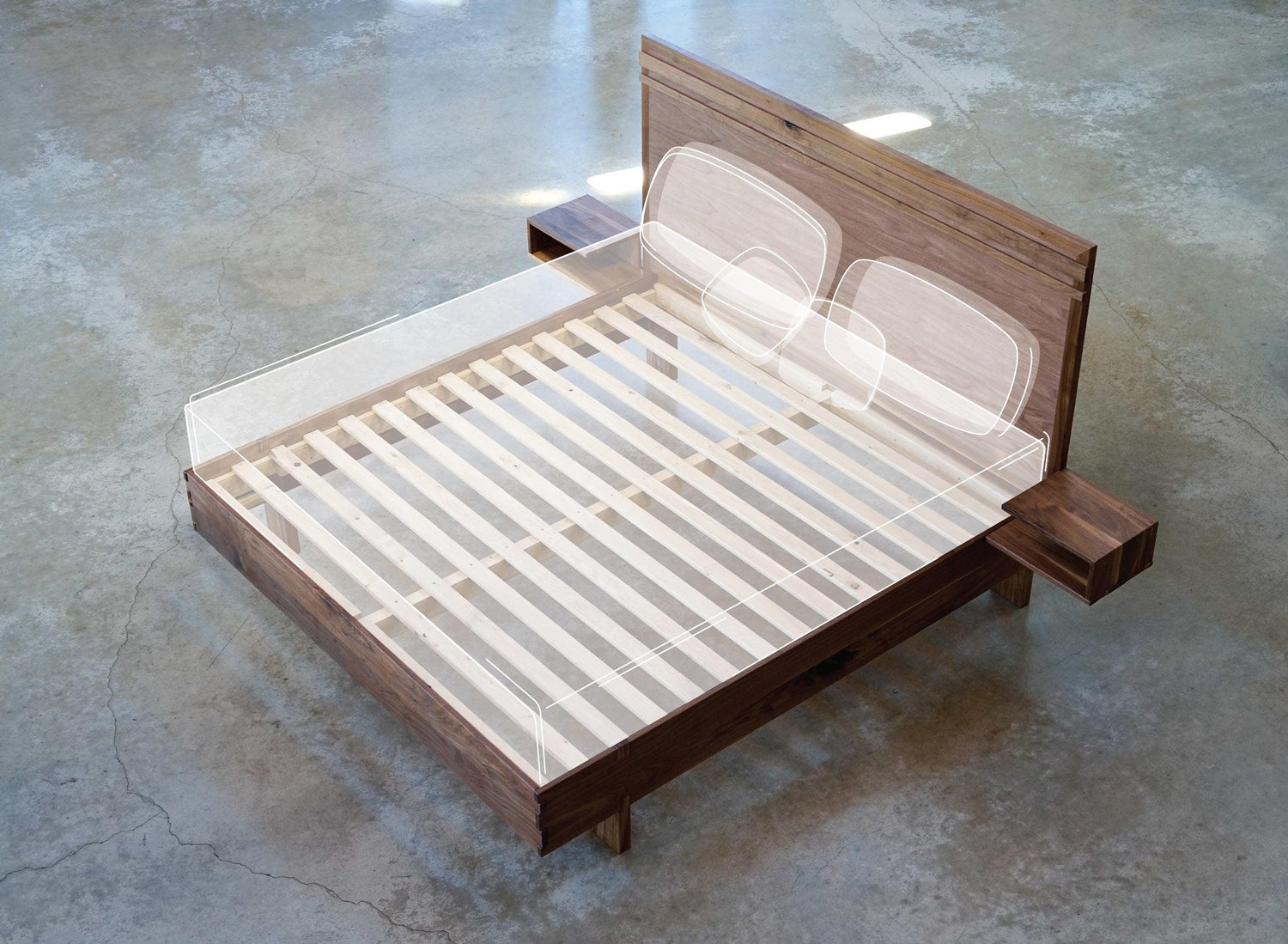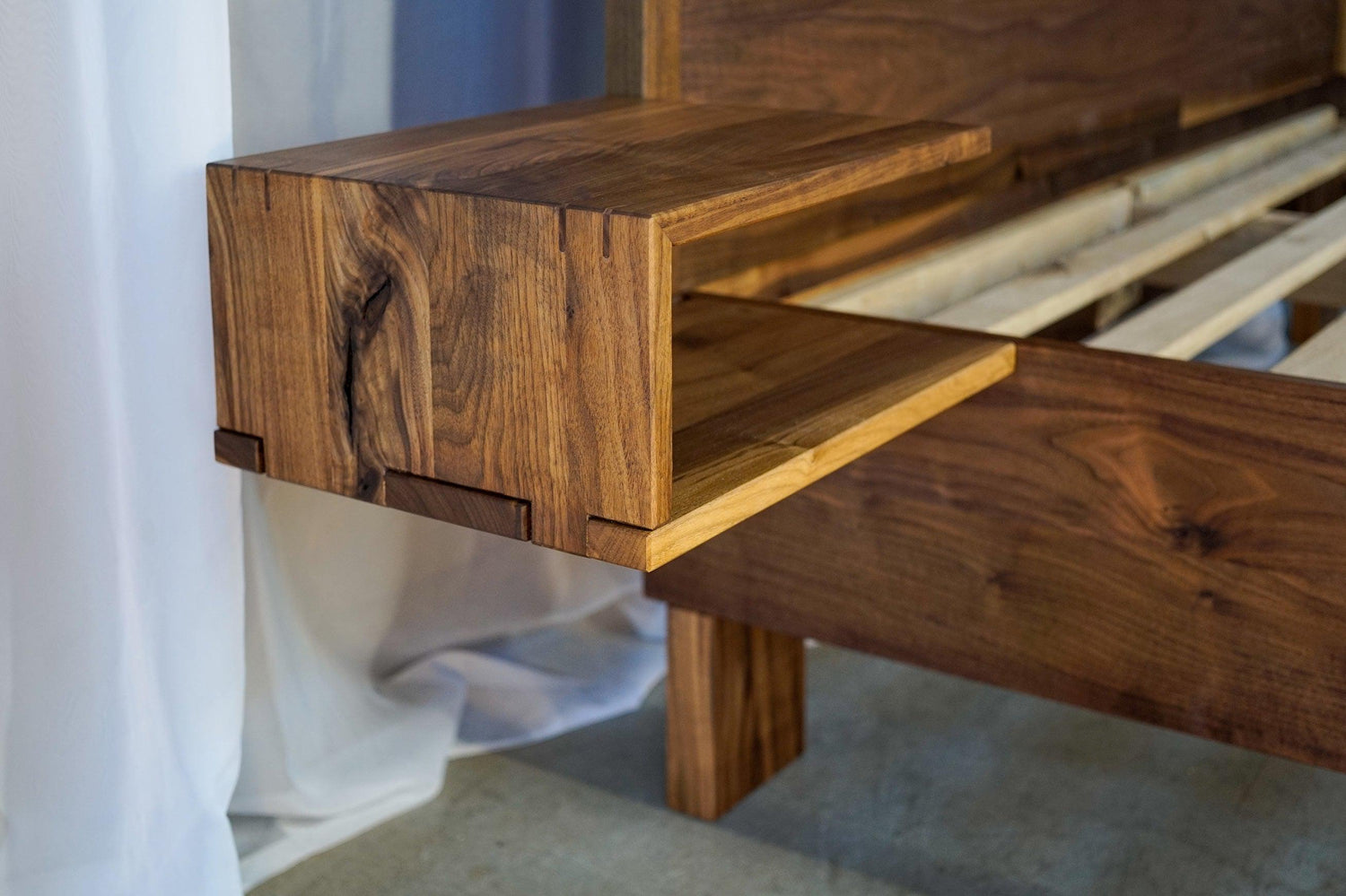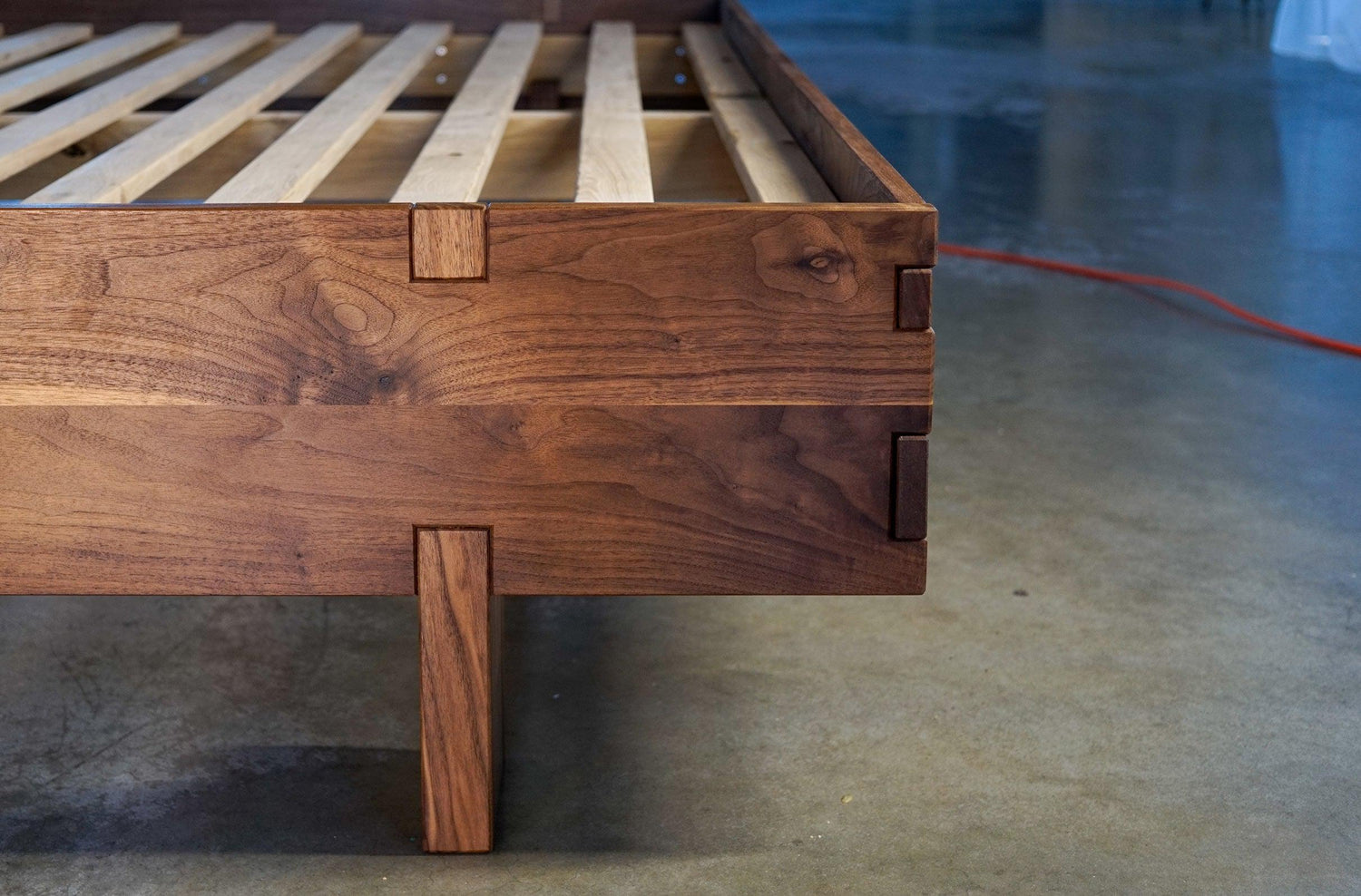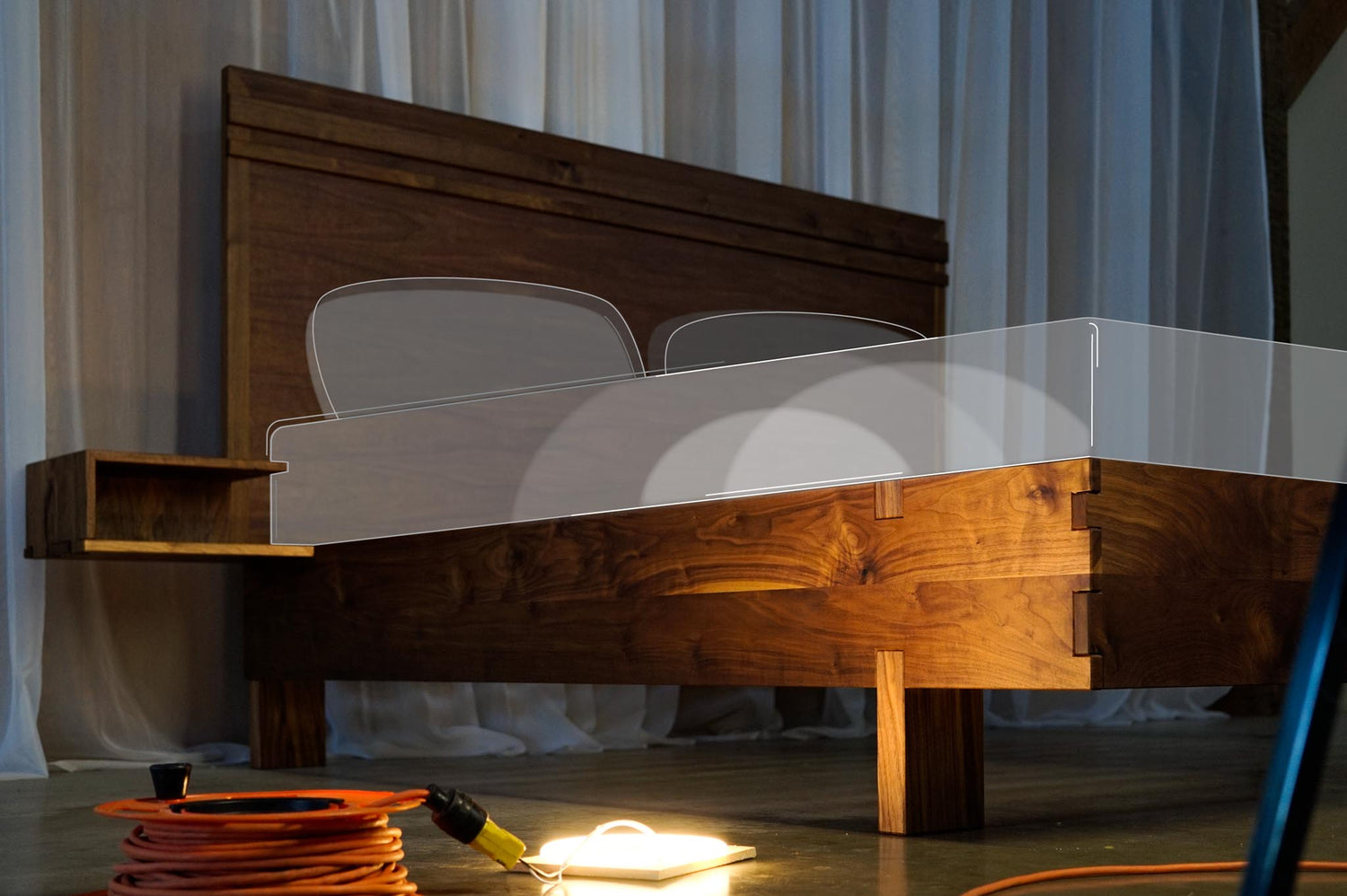 A custom king size bed frame that nearly filled our small woodshop, designed to suit the style of the client. After touring the client's beautiful home, filled with iconic designs from Dieter Rams, and Mart Stam, and paintings by Gustav Klimt, she asked for something to fit in, and didn't give much more instruction other than the dimensions. We're particularly proud of the subtle but intricate design language throughout the piece, and the visible joinery that makes-up the heirloom quality strength of the piece, while also being entirely collapsible.
Species: Black Walnut
Completed: June 2021
Children's Ash Dining Set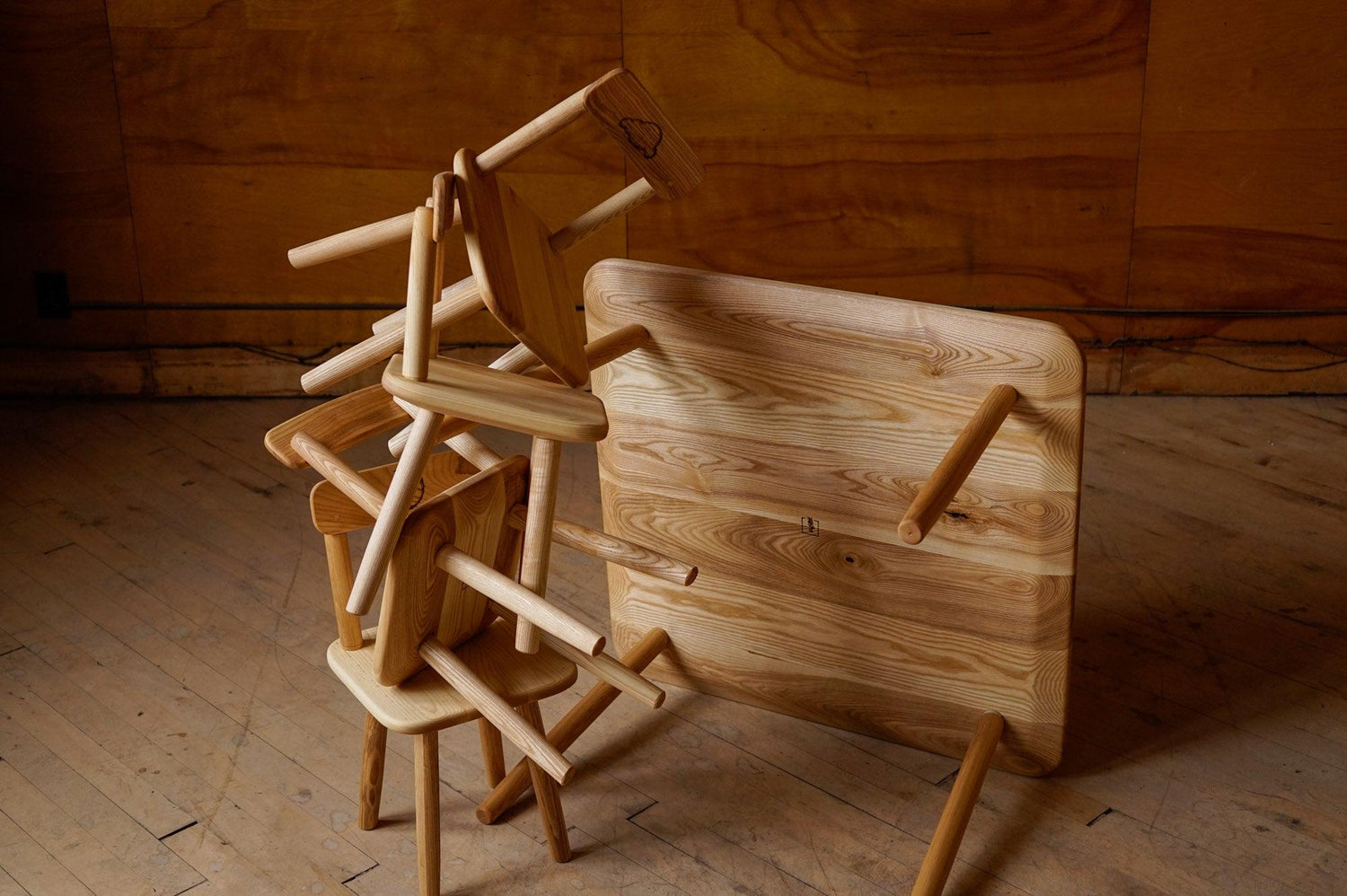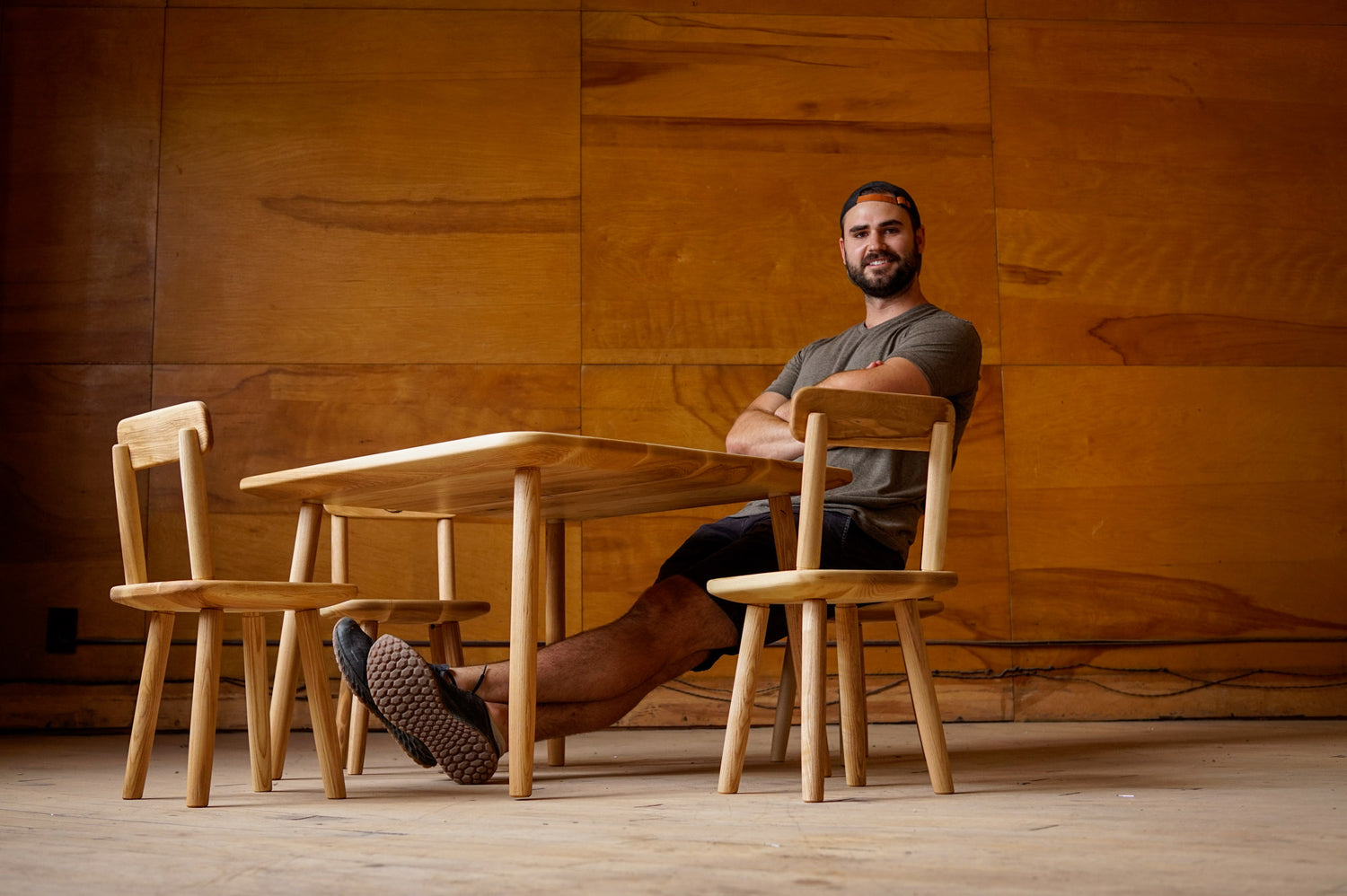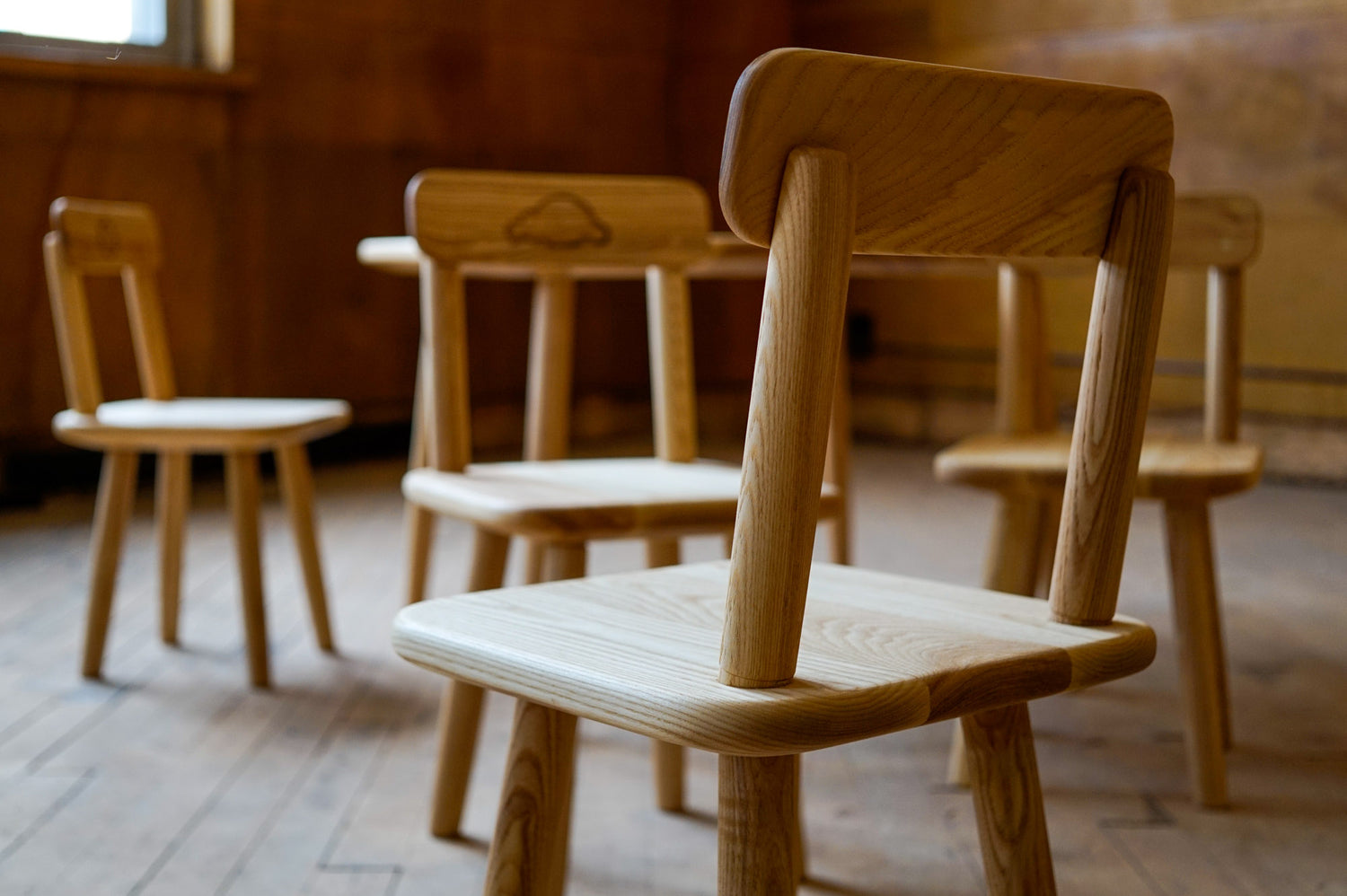 We never thought a dining set for children would come across our desk, but we had a lot of fun with this one. It features playful, rounded edges all over the place, and simple, chunky dimensions. Each seat back has a different design carved into it and stained a deeper tone; a moon, a sun, a star and a cloud. This design hinges on its simplicity, leaning into a simple, welcoming form factor and made entirely of solid wood for ultimate durability.
Species: White Ash
Completed: July 2020
Walnut "Stance" Media Console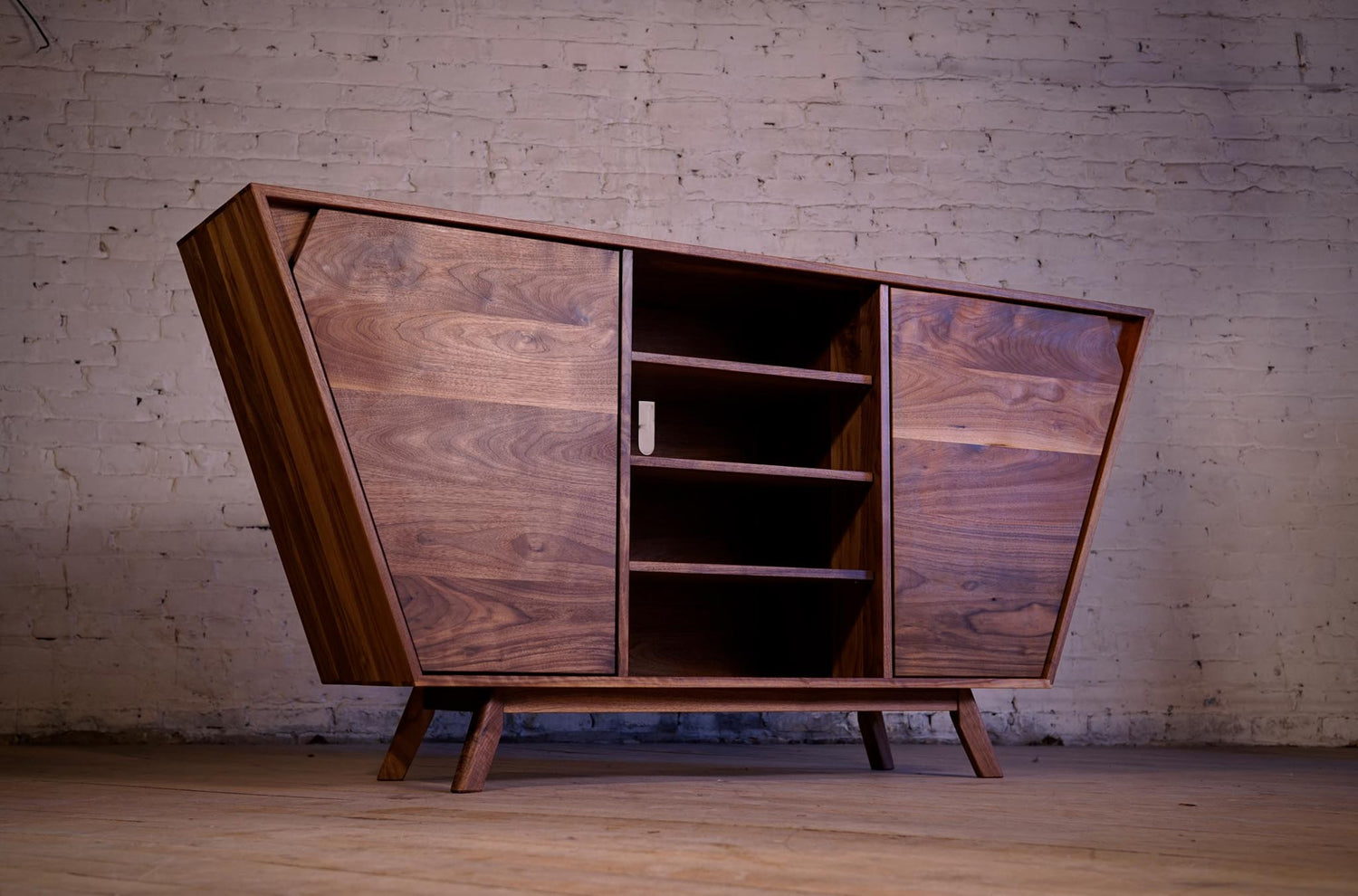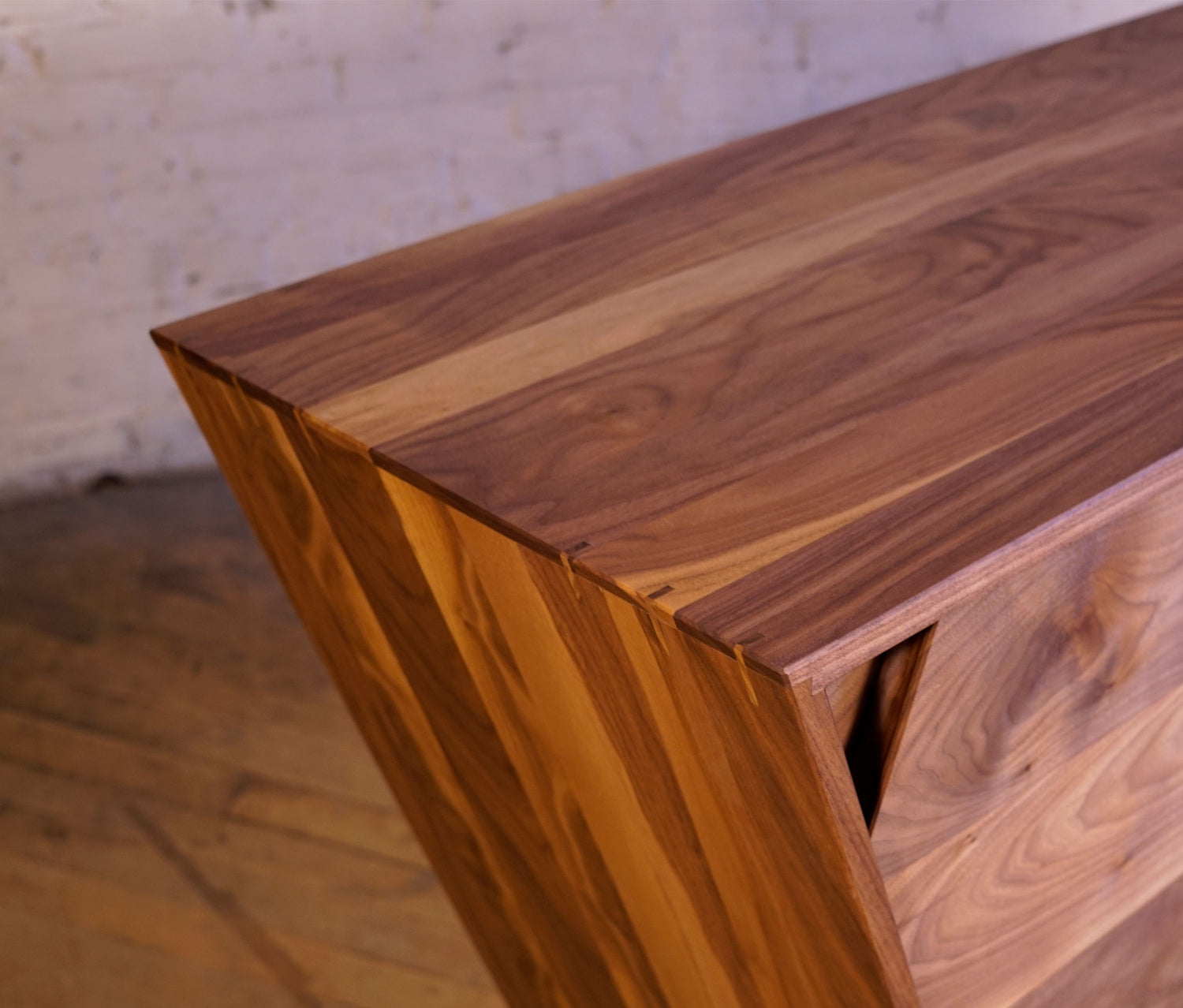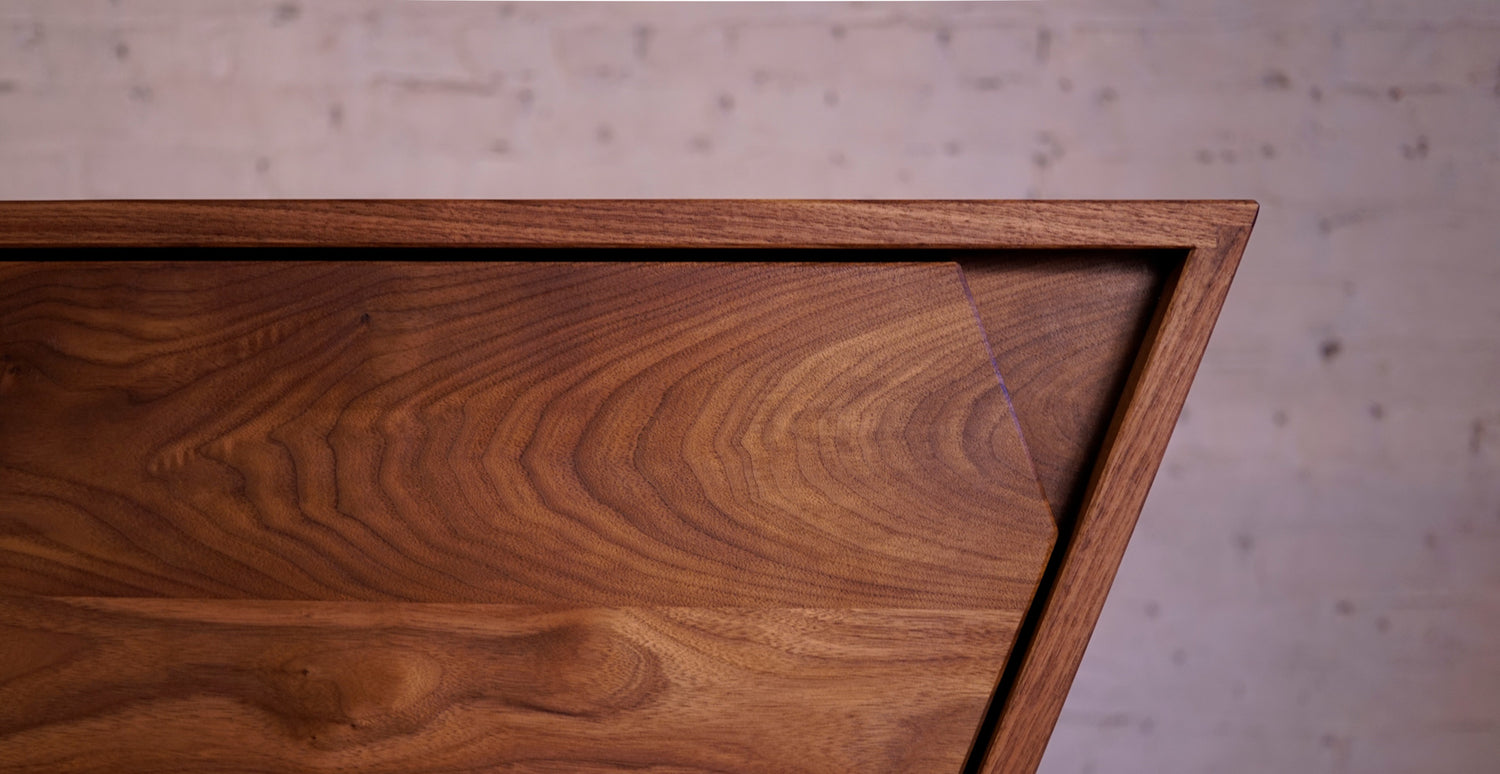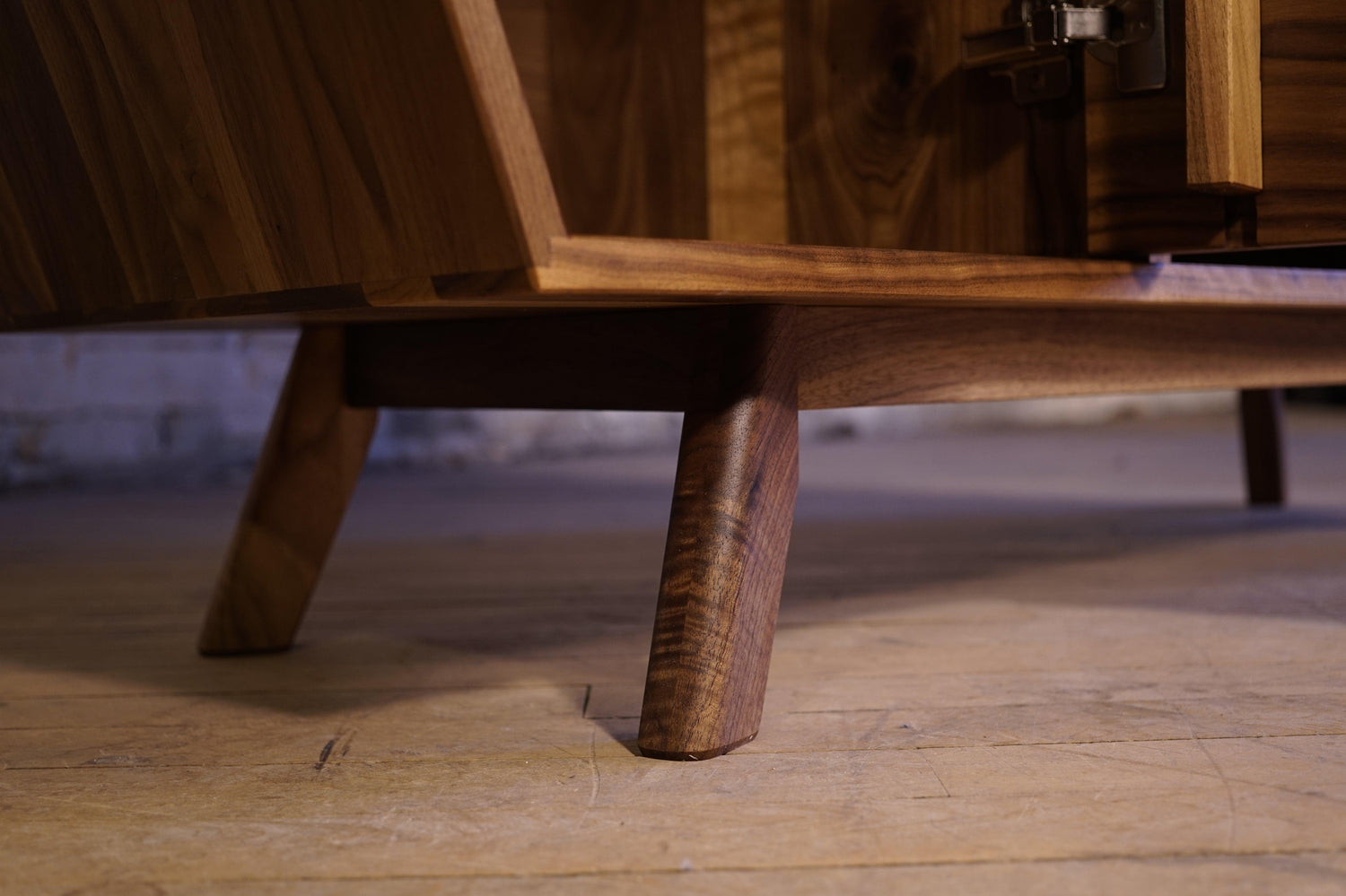 A repeat client drew a crude two dimensional figure of this piece, and the rest was up to us. We wanted to ensure the ratio of each segment and dimension was in harmony with the overall shape, and the result is quite stunning. The console takes a noteworthy stance in space, and makes a bold statement. This piece was the first piece available on a shirt in the merchandise shop for a limited time, now passed.
Species: Black Walnut
Completed: May 2020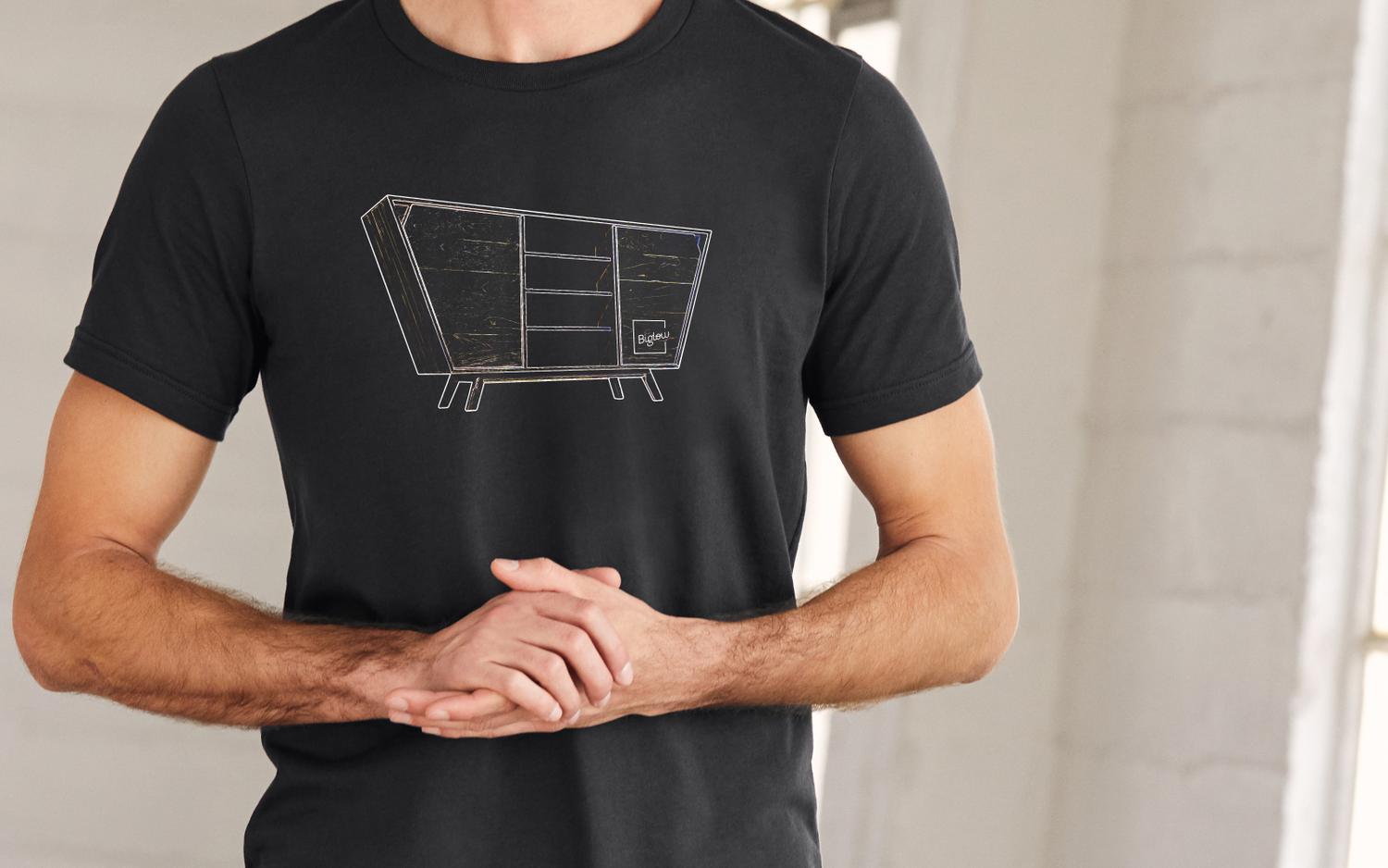 Show your Support
The easiest way to support Biglow Woodcraft is by purchasing merchandise. Every so often, a new shirt design will replace the last, creating new opportunities to share your support with the world. Sign up for our emails at the bottom of any page to be in-the-know, and collect them all!
The Stance Cabinet Tee is no longer available, but the Cashew Coffee Table Tee is now live!
SHOP MERCHANDISE
Cousin's Bar Cart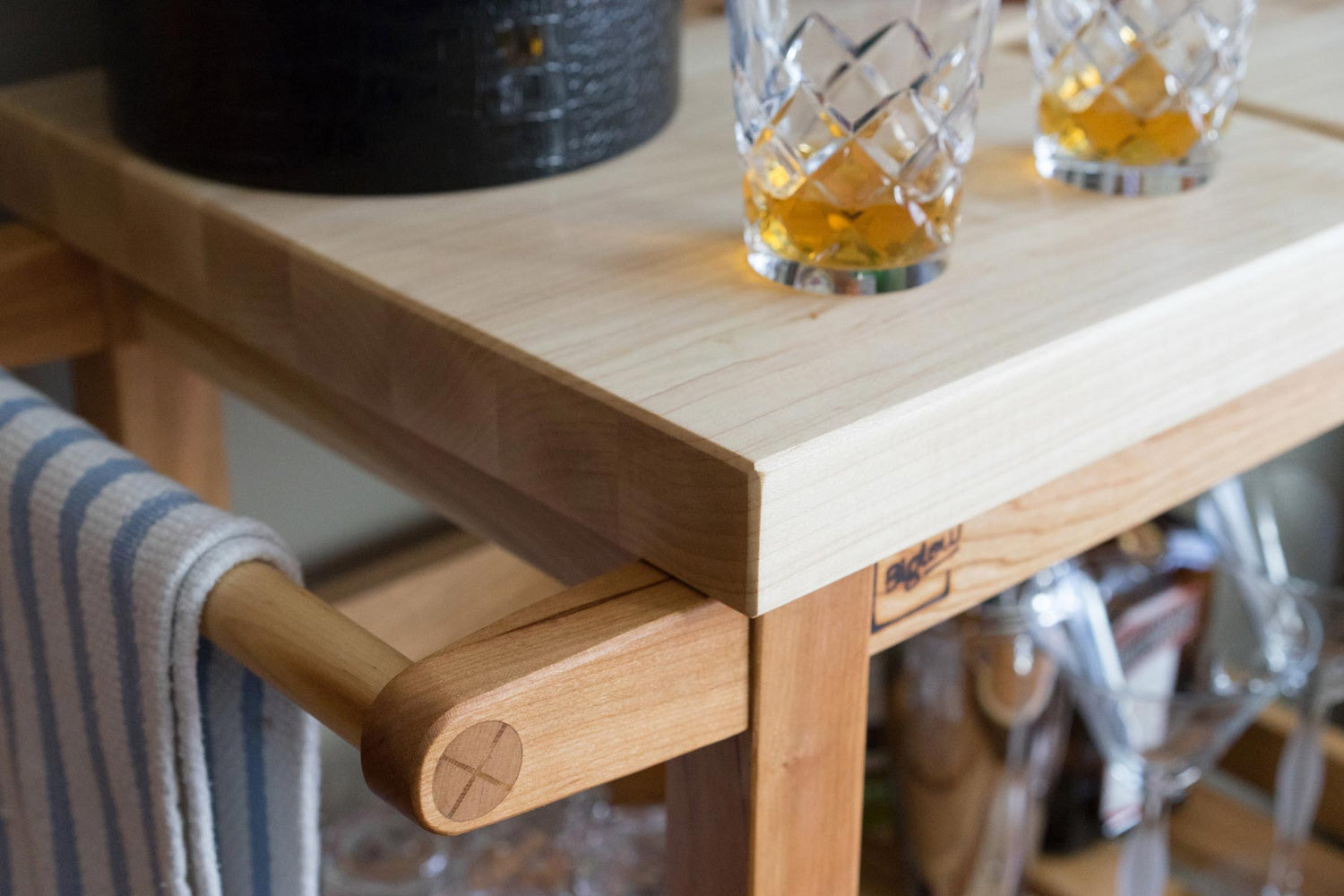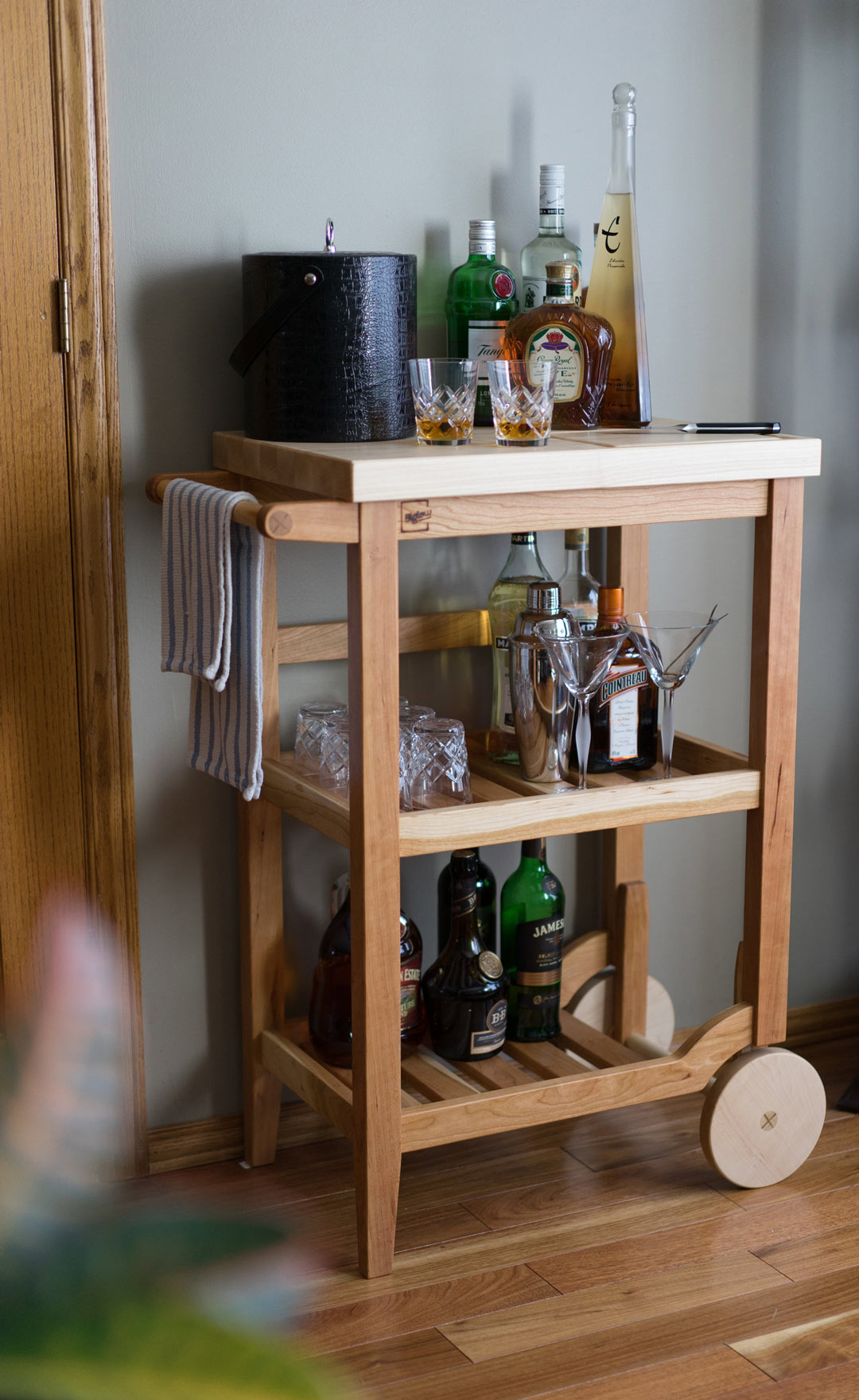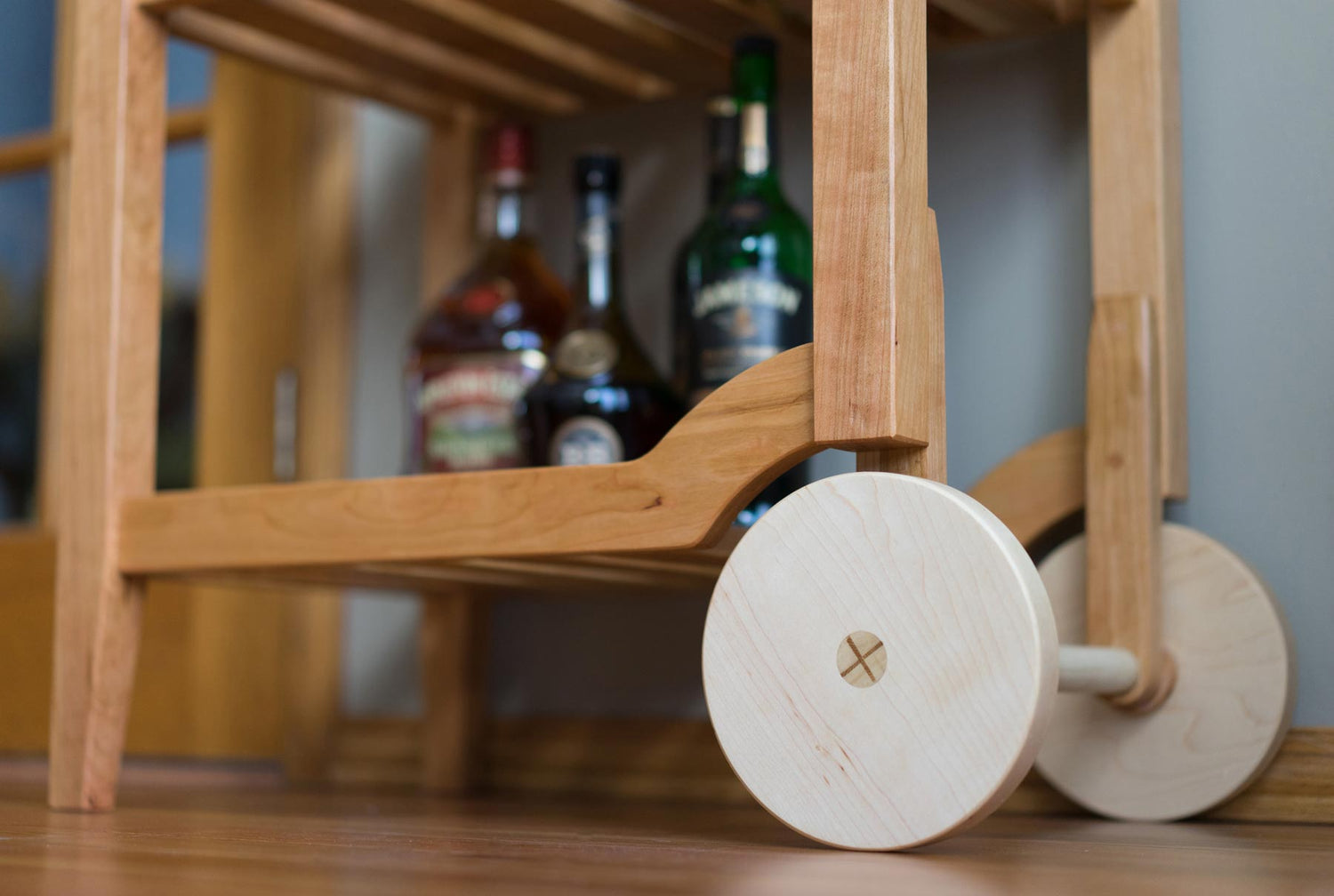 Dedicated to Amy Cummine. This piece was made for a fundraiser for Cystic Fibrosis research. It's a simple design, with all the fixings one might want in a bar cart, and the fit and finish to stand out in any space. The wooden wheels and curved lower rails are a favourite, which feature wedged through-tenon joints, to match the towel rod.
Species: Cherry with Maple top
Completed: March 2018
What's Next?
Biglow Woodcraft is focused on designing new products and furniture for the Catalog, and limiting custom commissions. That being said, we are always on the lookout for great custom furniture projects that expand our horizons. If you've got one, connect with us.
TO THE CATALOG